Everybody deserves to feel and be safe. Historically, when we discuss public safety, we talk about police. Last week, Local Progress Minnesota (LPMN) co-hosted a community conversation with Indivisible MN03 and Plymouth Area Indivisible in the western suburbs of the Twin Cities to expand this siloed definition of public safety, and to discuss how we can build real safety by investing in our communities and addressing the root causes of instability.
More than 40 community members turned out for a panel discussion moderated by LPMN Chapter Manager Jillia Pessenda featuring four Local Progress Minnesota members: Hennepin County Attorney Mary Moriarty, Minnetonka City Councilmember Kimberly Wilburn, St. Louis Park City Councilmember Sue Budd, and Hopkins City Councilmember Hedi Garrido.
Panelists engaged with community members in a thoughtful and intentional discussion about ways to transform our systems of public safety – grounded in a holistic vision for community safety.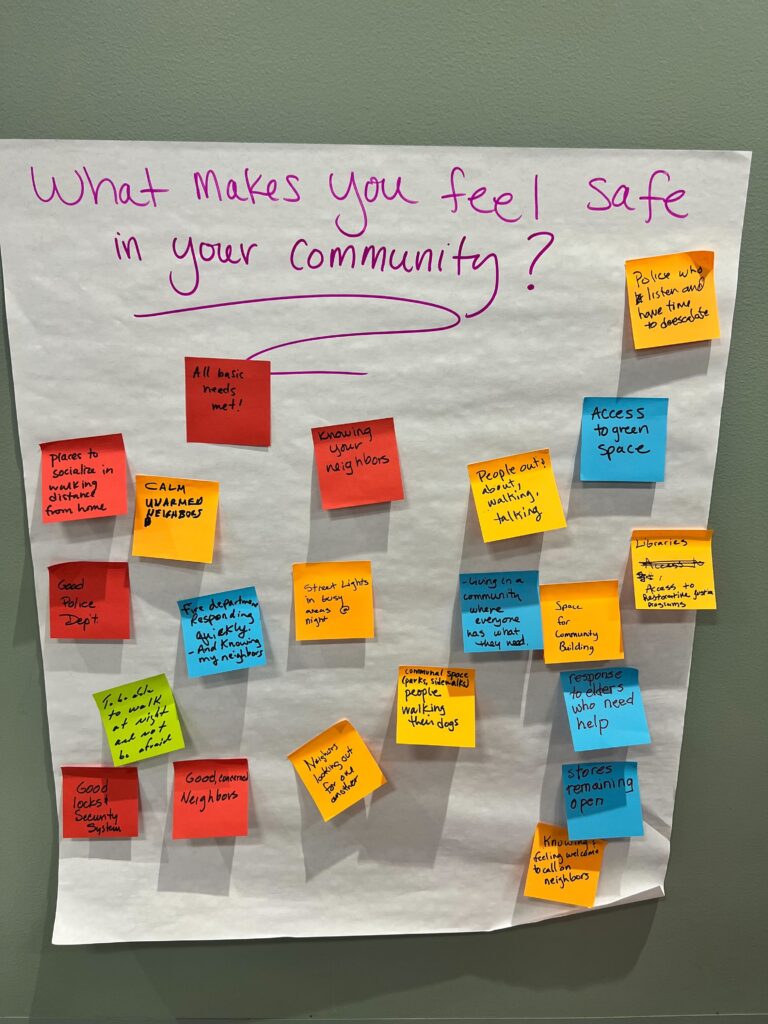 Upon entry, attendees were encouraged to share their answers to the question, "what makes you feel safe in your community?" Community members shared a myriad of things that make them feel safe, including:
"Knowing your neighbors"

"Access to green space"

"Living in a community where everyone has what they need"

"Libraries"

"Access to restorative justice programs"

"Space for community building"

"All basic needs met!"
As the panel kicked off, panelists were posed a similar question. They shared their personal visions of public safety, what they're hearing from their communities on the ground, and the ways in which they are working to actualize these visions.

Members delved into expanded safety response models, like mental health response teams, and strategies for advancing restorative justice, including within the criminal justice system; but they also made sure to address ways to get at the root causes of instability in their communities: ensuring people have access to stable housing, high-quality jobs, excellent public transformation, good public schools, and so much more.

As local elected officials with different jurisdictions representing uniquely different communities, panelists reflected on the ways in which local leaders can work together across county lines to build real safety. Finally, panelists took questions from community members and shared actionable ways in which residents can support and advance this work in their own capacity.

Thank you to our Indivisible partners, our intentional moderator Jillia, and our incredible member panelists – Mary, Kimberly, Sue, and Hiedi.  But most importantly, thank you to the community members who showed up, engaged thoughtfully, and left inspired to advance this work in their communities, because real transformative change starts from the ground-up.