Welcome back to the LPNY State Download – our quarterly newsletter! Here's a look at some of what LPNY has been up to the past few months – and what's been happening across the state! There's been lots happening with the state budget (including a number of budget extensions), plus big updates from Kin

In April, Local Progress New York came together for a two-day housing summit in Albany – with more than 40 local electeds, community partners, and local tenant organizers – to strategize and set our vision for housing over the course of the next year and beyond. When things seem stalled at the state or federal level, our community partners and local elected officials are the constant in the years-long work of decommodifying housing and guaranteeing homes for all. Read more about it here. ➡
🔋 A Gas-Free Future in Beacon and New York State!
In March, the Beacon City Council unanimously passed legislation that will require any new building in the City to be gas-free starting in 2024. The effort was led by Beacon City Councilmember and LPNY Organizing Committee member Dan Aymar-Blair along with LP member colleagues, Paloma Wake, Justice McCray, and Wren Longno. The passage marks only the third time in the state that a municipality has tried to regulate emissions from housing stock. Check out the Times Union piece covering the story here. 
State lawmakers passed a similar restriction statewide in a FY 2024 budget deal brokered only a couple of weeks ago!  It should be noted that both laws passed despite a strong attempt by industry trade groups to oppose the measures.
"Not only was Beacon's law written to exceed the state's recommendations; it was written to be easily replicable by other towns and cities in New York state," said Councilmember Dan Aymar-Blair, "And I've since heard a lot of interest. I'm glad that leaders in Albany saw there was an appetite for all-electric buildings at the local level."
For more information about the Beacon's gas-free legislation, please email Chad or Mel!
🏡 Rent Stabilization Update in Kingston
Last July, Kingston opted into the Emergency Tenant Protection Act after finding that the City's vacancy rate was well below 5%, based on a housing vacancy study. By declaring a Housing Emergency, Kingston was able place 1,300 rental units under New York State Rent Stabilization (overseen by NYS Housing and Community Renewal [HCR]) and offer protection from unfettered rent increases. 
Within 30 days of the Housing Emergency being declared, a Rent Guidelines Board (RGB) was created that determines potential rent increases or rent freezes for one and two year leases. The newly formed RGB was also tasked with creating a "look back" period so that tenants could appeal the outrageous rent increases that had occurred throughout the pandemic as downstaters moved into Kingston. The RGB held a historic vote in November to give tenants under rent stabilization a 15% decrease in rent for these units, the first rent rollback in the history of New York state! 
Soon thereafter, a group of landlords filed a lawsuit against the City arguing that the vacancy study was flawed, and the Housing Emergency was unlawful. The NY Supreme Court upheld the city's emergency declaration, which is now being appealed by the landlord group. 
The landlords also filed a lawsuit against the RGB, with the NY Supreme Court ruling that the RGB rent rollback was unlawful. An appeal has been filed in the Appellate Division and the RGB is being represented by Attorney General Letitia James' office. For now, rents are at least frozen while the court hears the case.
Because of recent developments, Kingston now has only about 1,100 units managed under NYS HCR. One large building with 266 units has since entered into a Regulatory Agreement with the city, in lieu of rent stabilization. This action by the city took tenants by surprise, raising concerns with the protections these tenants were assured under Rent Stabilization. LPNY Member and Alder Michele Hirsch was the sole vote in opposition of the City Council's measure. For the Many has been doing important work helping to organize all of the tenants in each ETPA building. An additional effort is also underway to permanently organize these tenants into a tenants' union.
💰  NY State Budget 
The best thing that can be said about the NYS budget for FY 2024 is that it's settled and over until next year. Some bright points are that the state is the first in the nation to ban gas heating and cooking in new construction, and that the state kept its commitment to fully funding Foundation Aid for schools. Other highlights: 
Bail Reform: Judges will get a little more leeway to impose restrictions that will ensure that people show up for trial, such as drug treatment programs or electronic monitoring – even for offenses that do not require bail under current law – but preserve the "least restrictive measure" clause of the original legislation. 
Housing: Despite momentum and a clear mandate from communities taking the initiative to solve the housing crisis at the local level, we're still at a stalemate at the state level. With less than a month to go in the legislative session this year, there is still hope that Good Cause could be passed, along with the proposals from Governor Hochul's housing plan. We will keep you updated as we know more!
Immigration: Thanks to the incredible work by our partners at NY Immigration Coalition and Make the Road, the state has enacted a historic $63 million dollar investment in the Office of 

New

 Americans for legal and essential services. The legislature, unfortunately, failed to fund the Coverage for All bill (an effort to provide healthcare to immigrants in NYS) and still has yet to move on the Right to Representation Act.
Minimum Wage: 

New

 

York

's minimum wage got an increase, but only to $17.00 downstate and $16.00 upstate. Increases will be in full effect Jan 1, 2026. Progressives argued that the minimum wage should be $21.25 if the wage were tied to inflation from the historic $15 minimum wage fight over ten years ago. Starting in 2027, the minimum wage will be tied to inflation for any additional increases.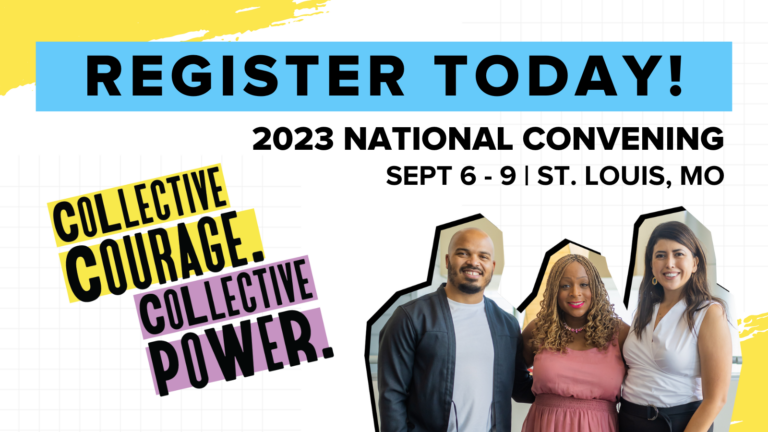 The 2023 National Convening is on!
Each year we look forward to being together with our Local Progress family – so needless to say we are beyond excited to welcome you to St. Louis on September 6 – 9 for our eleventh national convening! Register now using this link at a 50% discounted rate. This early bird discount will end on May 31st. (You will still be able to purchase a ticket for the event until June 30, but the registration fee increases to $250). Let's make sure LPNY has the largest turnout at the convening this year! Register now →
Other news & resources:
✊🏽 Join a LP Identity Caucus!
In the past two years, Local Progress has launched two identity-based community spaces: the Black Caucus and the Women's Caucus! These spaces were created by and for LP members to gather and share their lived experiences in governing and leadership positions. Our caucuses will have several opportunities for you to engage in this year, and the next opportunity for the Women's Caucus is coming up soon! Sign up now to attend the Women's Caucus general membership meeting on June 27th 2023.
✅ Apply to join our Organizing Committee!
A great way to get more involved with our work in New York is through our LPNY Organizing Committee! Our Committee meets once a month and works with LP staff and our community partners to set our state chapters priorities and define our mission and vision for our work. It's also a great space to build community with other LPNY members. If you're interested in learning more about this Committee, fill out this form!